Chicagoland's Premier Commercial Cleaning Service
Electrostatic Cleaning for Large, Hard to Reach Places
Tailored Cleaning Solutions for Your Business
Place of Worship Cleaning
Keeping your employees healthy and your clients happy through a clean and safe work environment – Guaranteed!

Crystal Clean is a commercial cleaning business that can assist in keeping your workplace clean and help remove bacteria, viruses, molds and other germs. We understand that a clean environment helps promote an employee-friendly workplace and productivity. A sparkling clean company tells everyone who enters that you truly care about their health and well-being – employees and clients alike.
Are your employees complaining about the cleanliness of the office?
Are you embarrassed when clients visit?
Are your desks dusty?
Are your floors dirty and sticky?

If you are ready for a change, call Crystal Clean Building Solutions at 847-421-5662.
Our exclusive Three-Point-Solutions Service Program is unique in providing:
Trained High-Quality Personnel
Consistent Performance
Detailed Inspections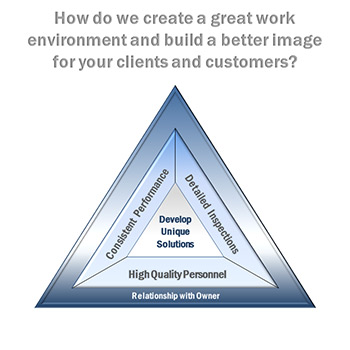 SERVICES WE PROVIDE:
Commercial Office Cleaning

Electrostatic Spray Disinfection
Carpet Cleaning
Upholstery Cleaning
Post-Construction Clean-Up
Marble and Granite Restoration and Polishing
Low-rise Commercial Window Cleaning
Hard Floor Care
THESE ARE EXAMPLES OF THE TYPES OF FACILITIES WE CLEAN:
General Office
Medical/Dental
Multi-tenant Buildings
Places of Worship
Warehouses
Manufacturing
Auto Dealerships
Banks
Retail
WE'VE GOT YOU COVERED:
Screened Personnel
Insured
Bonded
Courteous Staff
Easy to Communicate With
Regular Inspections
Relationship with Owner
Satisfaction Guaranteed
Top End Equipment
Customized Solutions
CLEAN & DISINFECT LARGE OR HARD TO CLEAN AREAS QUICKLY & EFFICIENTLY
Sanitizes and disinfects all surfaces and hard-to-reach places compared to conventional methods.
Improves infection control and the spread of viruses including Influenza, HIV, MRSA, COVID-19 and others.
Decreased risk of workplace illness creating service disruptions.
Increased trust from customers and employees who know that you care enough to invest in their well-being.
Other Services We Provide:
Commercial Cleaning,   Carpet Cleaning,   Floor Cleaning,   Janitorial Services,   Custodial Services,  Green Cleaning Products,  Floor Waxing,  Floor Stripping,  Window Cleaning,  Vacuuming,  Restroom Cleaning,  Bathroom Cleaning, Sanitize Office,  Deodorize,  Disinfect,  Disinfectant,  Pollen,  Non-toxic Cleaners,  Hardwood Floor Cleaner,   VCT,  Marble Cleaning,  Terrazzo,   Autoscrubber, Floor Finish,  Car Dealership Cleaning,  Office Cleaning,  Tenant Building Cleaning,  School Cleaning,  Church Cleaning,  Bank Cleaning,  Medical Office Cleaning,  Dental Office Cleaning,  Industrial Cleaning,  Warehouse Cleaning,  Manufacturing Cleaning,  Retail Cleaning,  Legal Office Cleaning,  Country Club Cleaning,  Government office cleaning,  Township cleaning, Building Cleaning,  Cleaning  Referrals,  Health,  Healthy,  Productivity,  Clean Air, Hygienic,  Extractor,  Cleaning Solutions,  Graffiti Removers,  Floor Machine,  Spray Buff,  Burnish, Electrostatic Cleaning and disinfectant spraying.