SERVICES WE PROVIDE:
Commercial office cleaning
All lobbies, hallways, offices, break rooms and bathrooms are kept clean, sanitized and orderly.
Electrostatic Spray Disinfection
Sanitizes and disinfects all surfaces and hard-to-reach places compared to conventional methods. 
Improves infection control and the spread of viruses including Influenza, HIV, MRSA, COVID-19 and others.
Carpet cleaning
Our certified technicians will deep clean your carpet which not only enhances carpet appearance and extends carpet life, but also ensures a healthy, breathe-fresh environment for the home and office.
Upholstery cleaning
We renew furniture fabrics in the workplace and home with a concentrated cleaning that removes dirt, stains and annoying allergens.
Post-construction clean-up
From ceilings to walls to floors, all surfaces, fixtures, windows and furniture are cleaned, scrubbed and sanitized for a quick and healthy move-in.
Marble and granite restoration and polishing
By bringing your natural stone finishes back to their original luster, we help you restore your original impressive appearance while protecting your high-end-materials investment.
Low-rise commercial window cleaning
Low-rise commercial window cleaning: Crystal Clean

'

s spotless inside-and-out window care literally sheds new light on your business environment that helps boost employee morale and productivity
Hard floor care
We make your worn workplace or home hard floors look new again with proper cleaning, craftsman-like touchups and overall sheen restoration
Top 9 Reasons People Choose Crystal Clean Building Solutions
People choose Crystal Clean because they want a cleaning company that:
Is Consistent and Reliable
Provides High Quality Personnel
Cares about your Employees and Clients
Focuses on Customer Service
Screens and Trains every Employee
Develops Unique Solutions
Is Easy to Communicate with
Is Bonded and Insured
Uses Top Quality Cleaning Equipment
We consistently sign up new customers who understand the deeper issues surrounding office cleaning. A properly cleaned office is about health, morale, productivity, and customer perception. Get your free estimate now.
Our exclusive Three-Point-Solutions Service Program is unique in providing:
Trained High-Quality Personnel
Consistent Performance
Detailed Inspections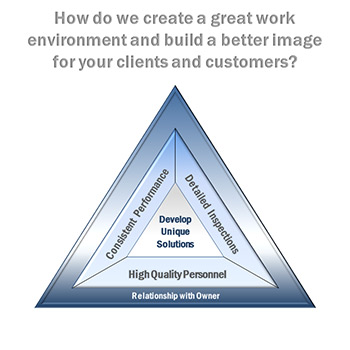 Other Services We Provide:
Commercial Cleaning,   Carpet Cleaning,   Floor Cleaning,   Janitorial Services,   Custodial Services,  Green Cleaning Products,  Floor Waxing,  Floor Stripping,  Window Cleaning,  Vacuuming,  Restroom Cleaning,  Bathroom Cleaning, Sanitize Office,  Deodorize,  Disinfect,  Disinfectant,  Pollen,  Non-toxic Cleaners,  Hardwood Floor Cleaner,   VCT,  Marble Cleaning,  Terrazzo,   Autoscrubber, Floor Finish,  Car Dealership Cleaning,  Office Cleaning,  Tenant Building Cleaning,  School Cleaning,  Church Cleaning,  Bank Cleaning,  Medical Office Cleaning,  Dental Office Cleaning,  Industrial Cleaning,  Warehouse Cleaning,  Manufacturing Cleaning,  Retail Cleaning,  Legal Office Cleaning,  Country Club Cleaning,  Government office cleaning,  Township cleaning, Building Cleaning,  Cleaning  Referrals,  Health,  Healthy,  Productivity,  Clean Air, Hygienic,  Extractor,  Cleaning Solutions,  Graffiti Removers,  Floor Machine,  Spray Buff,  Burnish, Electrostatic Cleaning and disinfectant spraying.